Is It Time for a Bathtub Replacement at Your Omaha, NE, Home?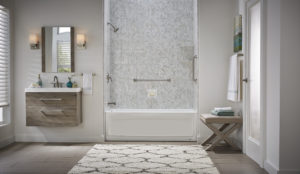 It may be time to replace your bathtub if it's cracked and stained, and makes you wrinkle your nose every time you see it. Or if you cannot seem to get the mildew under control, no matter how often you scrub at the grout. Or if the tub is so outdated that it's just not functioning well anymore. These are all signs that you need to turn to Quality Home Exteriors for a bathtub replacement. We serve homeowners in and around the Omaha, Nebraska, area, and you can count on us for top-notch products, efficient installations, and individualized customer service. We can install a new bathtub in as little as one day, ensuring as minimal a disruption to your daily life as possible.
Stylish Bathtubs
You may think that a bathtub is just a slab of white material with very little thought to design, but Quality Home Exteriors takes bathtubs up a notch. We offer bathtubs in numerous styles, some with beveled edges and others with curved bases. You'll be able to select a bold, sophisticated wall surround. And you can finish off the look with accessories; choose from soap dishes, grab bars, luxury faucets, and more. Don't be surprised when guests comment on how stylish your bathtub is!
Efficient Installations
We understand how stressful a bathroom renovation can be, even one as simple as a bathtub replacement, and we go the extra mile to make sure you can relax after the initial consultation is complete. We'll take care of the rest! Factory-trained and -certified craftsmen will handle the entire replacement process—from removing your old tub to making sure the new one is functioning flawlessly—and we'll only need your input at the end to make sure your new tub is exactly what you expected.
If you'd like to get in touch with Quality Home Exteriors to schedule a stress-free bathtub replacement at your Omaha, NE, home, give us a call today and we'll be glad to get the process started.