Prodigy® Insulated Vinyl Siding
We offer Alside® Prodigy® siding because it is engineered to impart optimum beauty and performance to your home. This vinyl siding material will remain maintenance-free for decades, and zero color fading will keep it looking beautiful for just as long. Prodigy siding is impact-resistant, energy-efficient and controls moisture.
Energy-Efficient, Beautiful & Durable Protection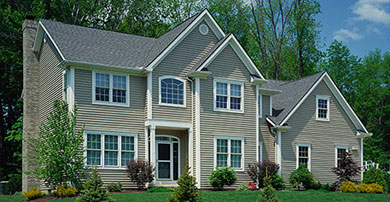 If you expect the premium level of quality and performance or you're looking for value without compromise, there's a Prodigy Insulated Siding System to meet your lifestyle and budget.
Detail is just as important on the outside of your home as it is on the inside. That's exactly why Alside developed Prodigy. From the industry's thickest, energy-saving insulation to beautiful colors that are protected from weathering for life, every detail of Prodigy siding is built around you. These are just a few of the things Prodigy can mean to your home – and your peace of mind.
Features & Benefits
Defies dings and scratches from everything from hail to kids at play.
From rich and luxurious to subtle and sophisticated, Prodigy offers 21 beautiful colors to choose from, including seven deeper hues in the new Architectural Palette.
Most accessories and trim contain precision fit insulation and are color-matched to Prodigy's 21 inspired colors.
Permanent finish with authentic, subtle beauty eliminates scraping and painting forever.
Insulation may substantially reduce energy consumption in any climate.
Locking mechanism (patent pending) stands up to extreme winds.
Industry-leading warranty protects you and the value of your home.
Beautify Your Home With Prodigy® Siding
If you are ready to invest in new Prodigy siding, Quality Home Exteriors can provide expert siding replacement for your home. You can count on our team for high-quality, friendly service and unbeatable prices. Call us at (402) 403-5815 or fill out our appointment form today.