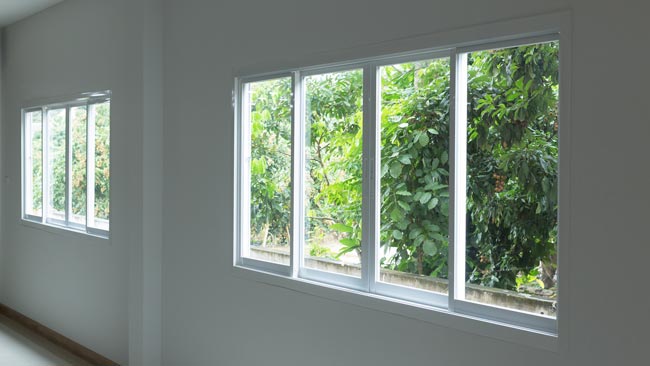 Sliding Windows
Sliding windows look great in homes with both traditional or modern architecture. These easy-to-use units offer the latest in energy-efficient technology and the clean, sleek lines you're looking for.
Durable, Energy-Efficient Windows
Mezzo® Windows feature a thermally optimized narrowline frame and sash with a dual-pane insulated glass solution designed to meet stringent ENERGY STAR® window requirements. The elegant narrowline construction ensures maximum daylight visibility while advanced technological reinforcements deliver dependable strength while minimizing energy transfer.
You'll sleep well knowing that Mezzos are enhanced with forced-entry hardware and modernized screen and bulb design. Strong, durable and weathertight — with the custom beauty you've come to expect — the Mezzo Window is in a class by itself. An impressive Lifetime Limited Warranty delivers the peace of mind you would expect from an industry leader.
Features & Benefits
The EdgeForce™ low-profile frame and sash creates an expanded glass area while internal chambers increase structural integrity, rigidity and energy efficiency.
CoreFX™ composite reinforcement helps reduce the transfer of energy while strengthening meeting rails and allowing for secure mounting of hardware.
Defense-Tek™ end-of-throw cam-shift locking action delivers increased strength and protection.
Forecaster™ quickly directs water runoff, keeping the exterior of the window clean and attractive.
The HP3™ telescoping sill dam delivers protection from air and water infiltration, increases structural stability and enhances beauty.
Gatekeeper™ interlocking sash-to-sill technology delivers a unified wall of strength.
The Ocular ™ screen bulb seal eliminates light penetration between the screen and frame and aids in easy screen installation and removal.
Let's Get Started
Quality Home Exteriors is the premier provider of replacement windows in the Omaha area. We offer a variety of options at affordable prices. Don't wait to make your home beautiful. Call us at (402) 403-5815 or fill out our appointment form today.