Bath Conversions Are a Growing Trend Among Omaha, NE, Homeowners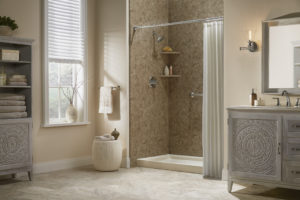 One of the most commonly used rooms in a home, the bathroom should be functional and aesthetically pleasing. So if the bathroom in your Omaha, Nebraska, home isn't working for your needs anymore, it might be time to consider a renovation. Thankfully, there's an easy solution to bathroom woes—a bath conversion. Rather than overhauling your entire bathroom and replacing everything from the flooring to the lighting, you can simply transform your bathtub into a walk-in shower—or vice versa—and completely change the entire look and feel of your bathroom. Quality Home Exteriors, a local home improvement company serving area homeowners, can complete this project in as little as two days and at a fraction of the cost of a full-scale remodel.
How to Determine If You Need a Bath Conversion
Tub-to-shower and shower-to-tub conversions are an incredibly popular bathroom remodeling project, as many homeowners start to realize their needs have changed over the years. For some homeowners, they may realize they no longer have use for a bathtub now that their children have grown up and prefer taking showers. Or maybe you moved into a home a few years ago with a walk-in shower but are now craving a tub to take luxurious, relaxing baths. If you notice your needs changing, a simple bath conversion is all you need to make your bathroom functional again.
Our Bathtubs & Showers
When you work with Quality Home Exteriors for a bath conversion, you'll be pleased to know that we are committed to offering the best products for our customers. Our bathtubs and showers offer long-lasting durability and are incredibly easy to maintain. They are crafted from acrylic that resists cracking and peeling and coated with an anti-microbial layer called Silver Shield™ that defends against mold and mildew growth. A simple wipe-down with a damp cloth from time to time is all our showers and tubs require.
You'll also be able to customize your tub or shower so that it meets all of your aesthetic and functional needs. Add accessories like grab bars, shelving, caddies, soap dishes, seating, and more to ensure you can organize all of your bathroom products easily and take a shower safely. You'll also be able to choose a beautifully designed wall surround in numerous colors and textures to enhance the décor of your bathroom.
Take the Next Step
Ready to get started on your bathroom transformation? Contact Quality Home Exteriors today to learn more about our bath conversions. When you call us, we'll be glad to schedule a complimentary consultation at your home in Omaha, NE, and can also tell you about financing options that can help make this project more affordable than ever.