Three Big Signs That You Might Need a New Shower
Jan 04, 2021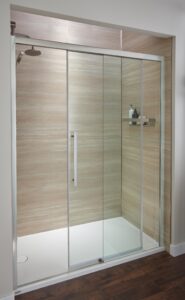 When it comes to home improvement projects, it can be easy to overlook your shower in favor of other priorities. But eventually, all showers reach the end of their life and become more of a liability than a utility. Waiting too long to replace your shower can lead to disastrous consequences, including massive repair bills, so it's important to recognize the warning signs your old shower is giving. If you notice any of these three signs that you need a new shower, turn to the pros at Quality Home Exteriors to ensure you don't end up with a flooded bathroom or worse.
Leaks
This might seem obvious, but many homeowners ignore small leaks around the base of their shower that eventually turn into big headaches. It might seem like small puddles are caused by not drying off properly, but if they're coming from your shower basin, it might be time to think about a new shower.
Excessive Cracking, Chipping and Peeling
Shower bases can definitely take a lot of abuse over the years, but if you notice major problems in the finish, watch out. Large cracks and chips or areas with extensive peeling usually indicate that your finish is near the end of its life—and it might not stay waterproof for long.
Stains and Dated Styling
It's totally understandable to want to replace an ugly shower. Whether your shower has persistent stains or simply an old appearance, upgrading with a new shower is a great way to give your entire bathroom a boost and make you excited to use it again.
Call the Shower Replacement Experts
If you're worried that your old shower is showing signs of its age, turn to Quality Home Exteriors. We have over 20 years of experience helping homeowners in Iowa and Nebraska upgrade their homes and we're the team to trust for your replacement shower. Contact us today to find out more.